~Harry H Long
ADRIFT IN SOHO
2018 / Random Media / 108m / NR
streaming on itunes, Amazon, Roku, xbox, Playstation, Fandango and other major services
If your taste runs to offbeat, smaller films then you'll want to check out this independent effort inspired by Colin Wilson's novel of London's Beat scene of then 1950s that's not so much an adaptation as it is a jazz riff on the source material. While I've read the late author's Lovecraftian horror fiction and some of his nonfiction on the paranormal and Jack the Ripper, I haven't read this work, so I'm relying on the Wikipedia synopsis. Characters have been added as well as episodes to what is essentially a collection of vignettes leading to an ambiguous ending (the film insists on tying up everything). Set in 1955, the story – more a picaresque really – revolves around young Harry Preston (Owen Drake) a naif writer wannabe who takes up residence in London's unfashionable Soho district (at the time it was much like Greenwich Village, a cheap place to live and thus an area that attracted painters, poets, musicians and counter-culture types). He meets up with James Compton Street (Chris Wellington), who introduces him to the bohemian lifestyle and becomes his close pal and sometime roommate. Through their adventures and the people he meets – including Doreen (Caitlin Harris), with whom he becomes romantically involved – Harry comes of age and matures as a writer, rejecting the bohemian way of life.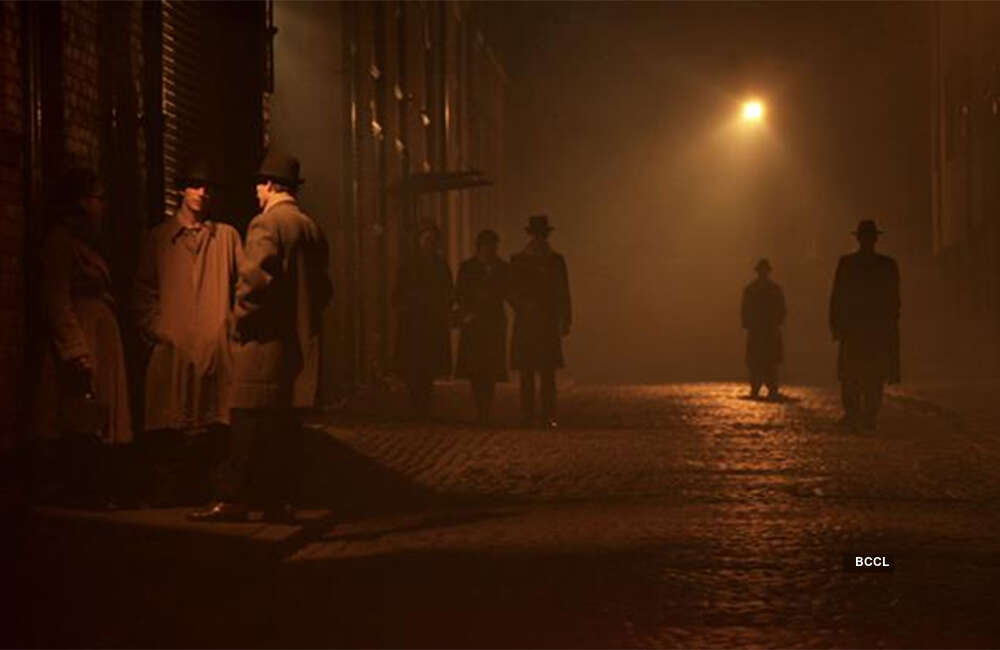 In the novel Harry is on a search for freedom and it is implied he's found a solution, though that conclusion is not stated. Pablo Behren's film (he wrote the screenplay as well as directed) ties up all the knots is a series of printed postscripts. It also provides a gruesome resolution for James that seems out of place (I frequently got the impression Behrens was trying for a Beat version of "The Magic Garden of Stanley Sweetheart"). Two documentary filmmakers (who support their efforts by making commercials and naughty films) are added to Wilson's novel; their interviews allow for the introduction of the cast of characters (and other Soho types) as well as a re-enactment of the 1959 anti-nuke March to Aldermaston (where the now famous peace symbol made its first appearance). Their interpolated storyline diffuses the film's focus and makes a disjointed narrative less compelling (much as I liked the film and admired its challenging, unconventional approach I did begin to lose interest about three quarters of the way through). On the plus side is solid acting, spot-on period detail and ravishing photography with colors often so saturated they're downright psychedelic. It may not be completely successful but its bravery is admirable.
BELZEBUTH
2017 / RLJE Films / 114m / $27.97 / NR
As a long-time horror fan I've pretty much resigned myself to the fact that the genre is not going to come up with anything new; I'm jiggy with films that are simply effective. I'm not referring to shock moments, which after all are not startling after a first viewing, but rather to weaving a creepy and unsettling mood. This Mexican offering (in both English and subtitled Spanish) manages the latter while supplying some shocks that will retain much of their frisson on repeated viewings. The squeamish among you are warned that said shocks involve violence against children, which is, of course, what makes them shocking. The first comes early when a hospital nurse stabs a roomful of newborns to death. This is not gross-out stuff; the actual carnage is below the frame, which doesn't make it any less uncomfortably nasty. A later attack has a poolful of kids electrocuted (except for a lifeguard who tries to stop the assailant, this is offscreen). The lack of gore and graphic violence is a refreshing change (though I should note that "Brahms: The Boy II", reviewed here recently, also eschewed blood and guts – mayhap there's a change afoot). Investigating the swimming pool incident is sheriff Emmanuel Ritter (Joaquin Cosio), whose infant son was amongst the victims in the hospital some years earlier. He reluctantly accepts the assistance of Vatican employee Ivan Franco (Tate Ellington).

It seems the murderers were all demonically possessed and the killings were perpetuated to prevent the rebirth of the Messiah (of whom Ritter's son would have been one attempted reincarnation). Things culminate in a claustrophobic trip across, or rather under the border, through a drug smugglers tunnel to the US to save mother and child, guided by the mysterious Vasilio Canetti (Tobin Bell of "Saw" fame). Mexico has a rich history (though not so much lately) of horror going back to the early sound era. Things reached a zenith in the late 1950s and 60s with number of films that mixed comic book, Republic serial and Universal horror tropes (and sometimes masked wretlers… beause, hell,why not?) in one gloriously nutty package (that one has a title that translates as "Robot versus the Aztec Mummy" should give you an idea). I find them irresistible but this is a very different animal indeed. There's nothing risible here; things are played straight and serious with not even a smidge of intentional humor. The cast is up to the task of keeping things believable – though aside from Bell they're not exactly high profile. Director/co-writer Emilio Portes is primarily known for his horror comedies – though as noted there's nothing funny happening here; he does a terrific job of keeping the tension ratcheted up. This is an great film for horror buffs.
COSSACKS IN EXILE
1939 / Alpha Video / 89m / $6.98 / NR
I have a fascination for Edgar G. Ulmer, the only Poverty Row director to be justifiably deemed an auteur. Ulmer started out as an art director in Germany in the early 1920s and, after emigrating directed "The Black Cat" – one of the gems of Universal's pre-Code horrors and one of the films for which he is best known. His affair with the wife of a studio executive caused him to be blackballed in Tinseltown and he spent the next several years scrounging for work with the most independent of independent producers, working with microscopic budgets and miniscule shooting schedules. Eventually he would find himself back at a Hollywood studio but it would be PRC, the lowliest and lowest regarded of the minor studios. The initials stood for Producers Releasing Company but some insisted they meant Pretty Rotten Crap. Much of their product was pretty dire in terms of scripting and acting (if in some cases it could really be called that) but in terms of sets often looked pretty good. Ulmer may well have been at least partly responsible – he certainly took credit for it in an interview – but he can safely be given credit for directing some gems during his tenure at the studio. Most would cite that bleakest of noirs, "Detour" (one of the first 100 films deemed worthy of preservation by the Library of Congress) and "Bluebeard" of his PRC seven day wonders, but I'd also point the way toward "Club Havana", his "Grand Hotel" on a shoestring, and "Strange Illusion", his modern take on "Hamlet" (both are on YouTube).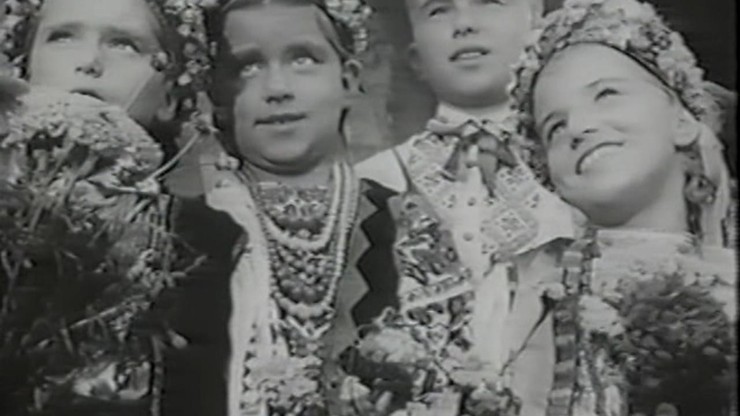 This film is from his time in the wilderness, quite literally as it was lensed in the farmlands of New Jersey, back to back with another ethnic film, the Yiddish "The Light Ahead". It's an adaptation of the famous Ukrainian comic opera – well, famous if you're Ukrainian anyway – "Zaporozhets za Dunayem" (Zaporozhian [Cossack] Beyond the Danube) with spoken dialogue, music and libretto by Semen Hulak-Artemovsky (1813–1873). The story is based on the historical destruction of the Zaporizhian Cossacks' island fortress by the Tsar's troops who sent them packing off to the Ottoman Empire (now part of Romania). Comedy arises from the refugee clan's struggles to adapt to their new home and the chance encounter of an old Cossack, Ivan Karas, and a Sultan who's traveling incognito (it just isn't an opera unless someone is in disguise). Aside from stunning close-ups and startling edits, viewers will find little of Ulmer's stylistic stamp here (he was probably hard-pressed just to get the thing in the can). Curiously the subtitles come and go; several arias (I counted at least four) are completely without them, but it doesn't seriously affect following the story. (I should note this is how the film went out and not some lack on Alpha's part.) The print is a bit soft but it's nice for us Ulmer completists to have it available again.
THE PERFECT NANNY (Chanson Douce / Lullaby)
2019 / Icarus Films / 99m / $26.98 / NR
If a film is entitled "The Perfect Nanny" you can safely bet the woman in question will be anything but. What have we learned, after all, from movies such as "The Nanny" and "The Omen"? This French production is more in line with the former in being a slow-burn thriller with no supernatural content. Myriam (Leïla Bekhti) and Paul (Antoine Reinartz) have a lovely Paris apartment and two children, five year old Mila and toddler Adam. Miriam, who's a lawyer, wants to go back to work so the two interview potential caregivers and select Louise (Karin Viard) not noticing – or perhaps chalking it up to interview nervousness – that there's something slightly off about this woman (of course we, as viewers, are looking for signs of why Louise may not be perfect). She arrives early and then earlier getting breakfast ready, stays late (she all but moves in), cleans and takes over much of the cooking and, as Miriam states, "The children dote on her." She's a disciplinarian but one who's also willing to chase the kiddies about the apartment impersonating a scary monster. There are things we see that the couple doesn't – such as when Louise moves into the apartment while the couple takes a vacation – but Myriam and Paul are willfully blind to much else; he's involved in a new album he's producing and she closes herself in the bedroom with her laptop during Mila's birthday party.

It's briefly established that Louise has had a difficult life, widowed, with a grown daughter who has cut off communication with her and is living is a shabby apartment (though just how shabby we don't realize until late in the film) but the psychology seems a little too shallow to justify her final descent into madness and any trigger seems lacking. But then Leila Slimani's novel on which then film is based is in turn inspired by a real-life 2012 Manhattan case and maybe such horrendous events are ultimately unfathomable. Still, despite such things as Louise choosing to urinate in a training potty signifying her losing it and increasing reliance on such standard horror schtick as the nanny suddenly being there, the finale seems to come out of nowhere. In the novel the horrific action is placed at the beginning with the rest of the story being a flashback. Perhaps the film should have considered that approach rather than a more standard narrative? But part of why I think the ending, which if course ought to be shocking (and you'll notice I am carefully not spelling it out), seems so out of the blue is that the film has unreeled for quite a long time with very little happening that's actually menacing and then blam! There's just no real build. The acting is excellent, particularly Viard who's rarely offscreen and is as fragile as she is unnerving. But despite having its basis in a real-life tragedy and a prize-winning novel the film doesn't convince.
PLANET OUTLAWS
1939-53 / Alpha Video / 89m / $6.98 /NR
First a word about serials – or chapterplays or cliffhangers as they were also called. They date back to the earliest days of the cinema and were long-form stories told in weekly installments that each ended with the hero or heroine (or both) in deadly, seemingly inescapable peril. By the sound era – at which time they were part of a long evening at the flickers that included a newsreel, a cartoon and maybe even a second (lower budgeted) feature – they were losing some of their allure. Then Universal in 1936 opted to adapt the newspaper comic strip "Flash Gordon" and popularity of the format with adult audiences returned. It was reputed to be their most expensive serial ever, costing a reported $390,000 (though signs of thrift are everywhere, including playing much of the action in front of draperies). While it has been cited by the Library of Congress as deserving preservation it isn't a patch (particularly in its unspecial effects) to the serials made at the same time by the tiny Republic studios. It owes much to the inspired casting of Larry "Buster" Crabbe who, once his hair had been bleached, was a dead ringer for artist Alex Raymond's hero; while not much of an actor the former Olympic swimming champion was one of the most beautiful men in 1930s Hollywood and the most underdressed Tarzan ever. Naturally there was a follow-up and while Universal for some reason delayed exercising their third option they turned to another science fiction comic strip, "Buck Rogers".

That strip predated "Flash" (debuting in 1929) and had Buck exposed to a radioactive gas and go into suspended animation for five centuries (the serial adds a zeppelin crash at the arctic and a youthful sidekick named Buddy). Awakened he joins Dr. Huer (C. Montague Shaw) and Wilma Deering (Constance Moore) in the Hidden City, opposing the world rule of Killer Kane (Anthony Shaw), who electronically lobotomizes any who oppose him. Both sides seek the aid of the residents of Saturn as allies in the struggle. There isn't much more than that to the plot. Even so, reducing its nearly four hours to just 87 minutes seems cruel. Yet that is precisely what notorious independent producer Sherman Krellburg had Harry Revier – his director on the wildly racist serial "The Lost City" – do. And bear in mind that some of the running time is taken up with opening credits and a pointless prologue and epilogue regarding UFOs! "Buck Rogers" was no great shakes to begin with –Universal apparently spared every expense on it from reusing existing sets (and even part of Buck's costume) from "Flash Gordon's Trip to Mars" and props from other films (sharp eyes will spot Henry Frankenstein's heart monitor and Wilfred Glendon's moon lamp for starters). Its most notable element might be that Wilma is no Dale Arden, screaming and fainting and in constant need of being rescued, but a part of the action. That makes it curiously modern… but still not very good.
Think maybe George Lucas saw Buck at some point?